Review and Rating
Venessa P.

| Toronto

"Before EZLitter I had to carry pounds of stinky and dusty cat litter into my home! Then I found EZLitter and decided to give my first month a because they had a bonus cat mat and scooper at the time! My cat took to the seven pound bag of beautiful white crystal litter immediately. It's easy to dean, there are no crazy smells and it puts my mind at ease knowing my cat is okay using the ingenious color guide provided in the shipping box!"

Josh A.

| Sacramento

"I like to have my friends over for dinner on weekends. I also like to cuddle with my cat during weekdays after work. The problem was my cat litter STUNK and my home smelled like cat urine and feces! Then I found EZLitter's and they said the odor controlling formulation was so EZ I wouldn't even notice I had a cat box. I decided to give it a try, almost to prove myself wrong. But I wasn't dissapointed. My home smells fresh all month long and I forget I even have cat litter anymore. It ships easily on a monthly basis and the smell is completely gone. Five stars for the easiest litter ever invented. "

Steph & Brian R.

| New York

"We decided to get a cat when we first moved in together. It reminded me of my childhood growing up with pets. But the litter box tracking drove my husband crazy. Then I found EZLitter and decided to give this new litter a try. Heck, it said EZ in the title! My cat had no issue with transitioning to the new litter and it is EZ, so EZ I forgot I even have cat litter anymore! It doesn't track, I got the EZLitter cat mat to go along with everything and now my husband doesn't have any issue with pets. We're thinking of another cat or dog soon. Thanks EZLitter team! "

Chrystal R.

| Wisconsin

"During the COVID pandemic, I gained a few pounds. I decided to do an at home workout to get fit, that's when I realized the air quality in my home STUNK. My friend recommended me to EZLitter because the STINK is virtually gone and the odor control lasts all month. I'm happy to say I stuck with my fitness program despite my lack of motivation and now I lost 9.2 LBS (2.9KG) in 3 months. My new boyfriend loves cat and LOVES EZLitter! Less time shopping more time for Netflix :) "

Patricia A

| Texas

"I used to be a very young and active woman who could do everything. As I got older I developed an appreciation for easy and helpful items. My grandaughter knows I love cats and they keep me company so she suggested I subscribe to EZLitter to save myself the hassle of remembering to change the litter box. I can say, I'm very thankful I don't have to cary heavy litter around anymore, my bones just aren't what they used to be. Thank goodness for EZLitter, my cat's and my daughters enjoy it."
Health Monitoring Litter
Delivered Monthly!
3.2x Better Odor Control

EZLitter's® science-based odor control is 3.2x better than competitors so you can feel like a hero saving your family the pain of dealing with nasty odors from urine and feces. EZ Litter's science based odor control makes you worthy of heroic praise, keeping your home smelling clean all month long.

Virtually zero dust

EZLitter® is 99.9% virtually dust free so you can feel like a hero reducing health hazards around your home and safe knowing for certain you can protect your cats from asthmatic attacks.

50% Less Tracking

EZLitter® eliminates 80% of traditional tracking so you can feel like a hero making your family happier and your home cleaner. Formulated to resist tracking by eliminating litter from getting trapped in your cats paws and tracking all over the house, EZLitter® makes it easy for you to clean up your kitty's act and be your cat's hero.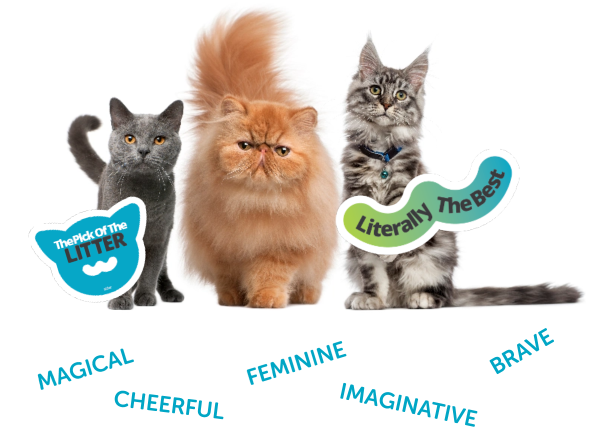 How it works?
EZLitter's® science-based litter is non-clumping and absorbs urine, eliminates odor and evaporates moisture. It's also flushable and not harmful for the environment. One bag will last an entire month for one cat. Remove the poop and mix the litter daily for best results. The color change works by interacting with abnormalities in your cat's urine which are often associated with feline illness such as liver disease, kidney disease and urinary tract infections. EZLitter® is not a diagnostic litter and is only an early alert. Please consult your veterinarian if you see a color change that persists longer than 24-48 hours.
Join Risk Free, Money Back Guarantee.

Convenient, Fast Home Delivery!

Free Shipping & Free Returns! Every Month.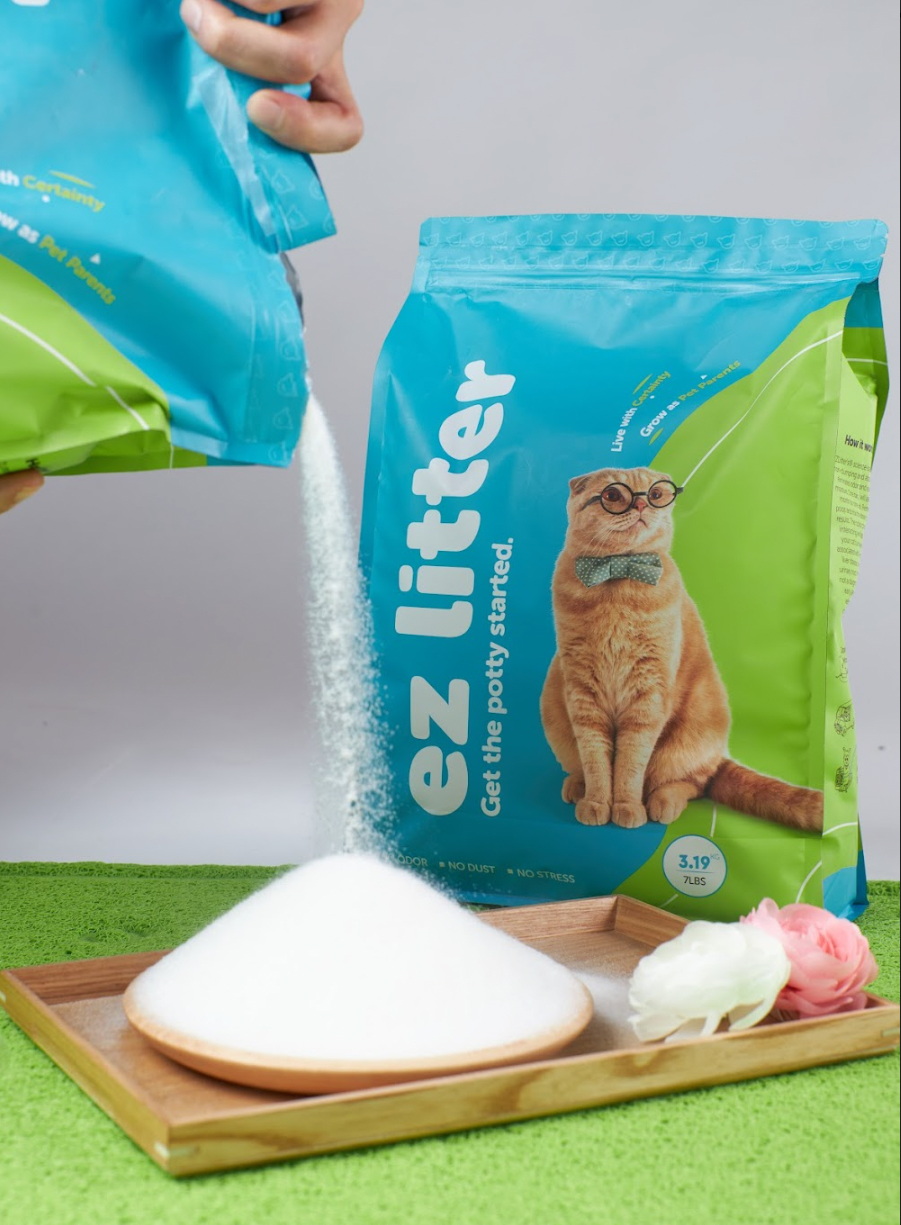 How is it made?
EZLitter® was developed so that you can feel proud knowing with absolute certainty that you are making a meaningful contribution to the wellbeing of your cat(s). EZLitter's® premium health indicating litter is science-based so you can feel like a proud pet parent knowing for certain that your products are safe and non-toxic for the earth, the environment and your cats.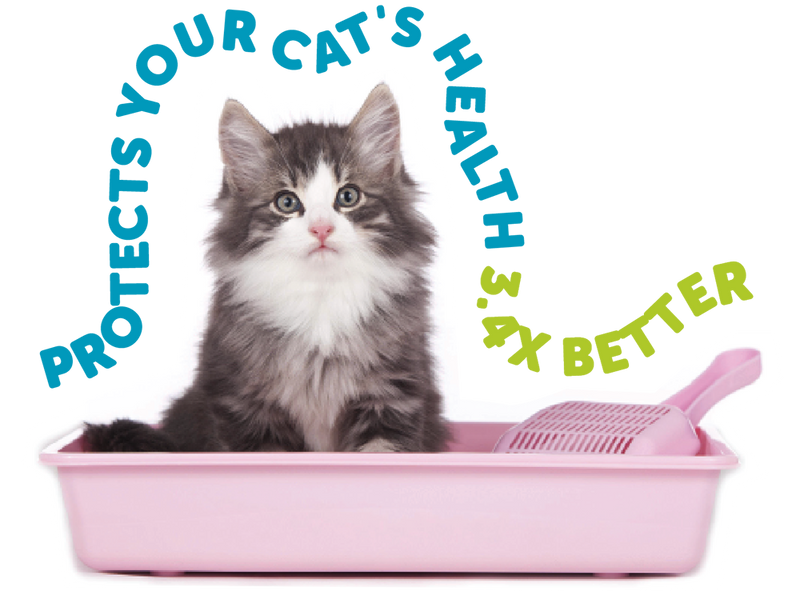 Everything we do is with our core purpose and vision in mind.
Our Purpose
We want to combine the ease of mail-order delivery with a sustainable, cleaner litter that keeps our customers' houses odor free, so that they can spend less time shopping, scooping, and sanitizing, and more time stroking their beloved pets. We aim to create a culture of care, starting with our employees and spreading through outstanding customer care – the backbone of our business.
Our Vision
We envision a world in which humans and pets are more connected and understand each other better. We empower pet owners with key insights into the health and wellbeing of their animals, while freeing up more of their time to spend with their beloved pets.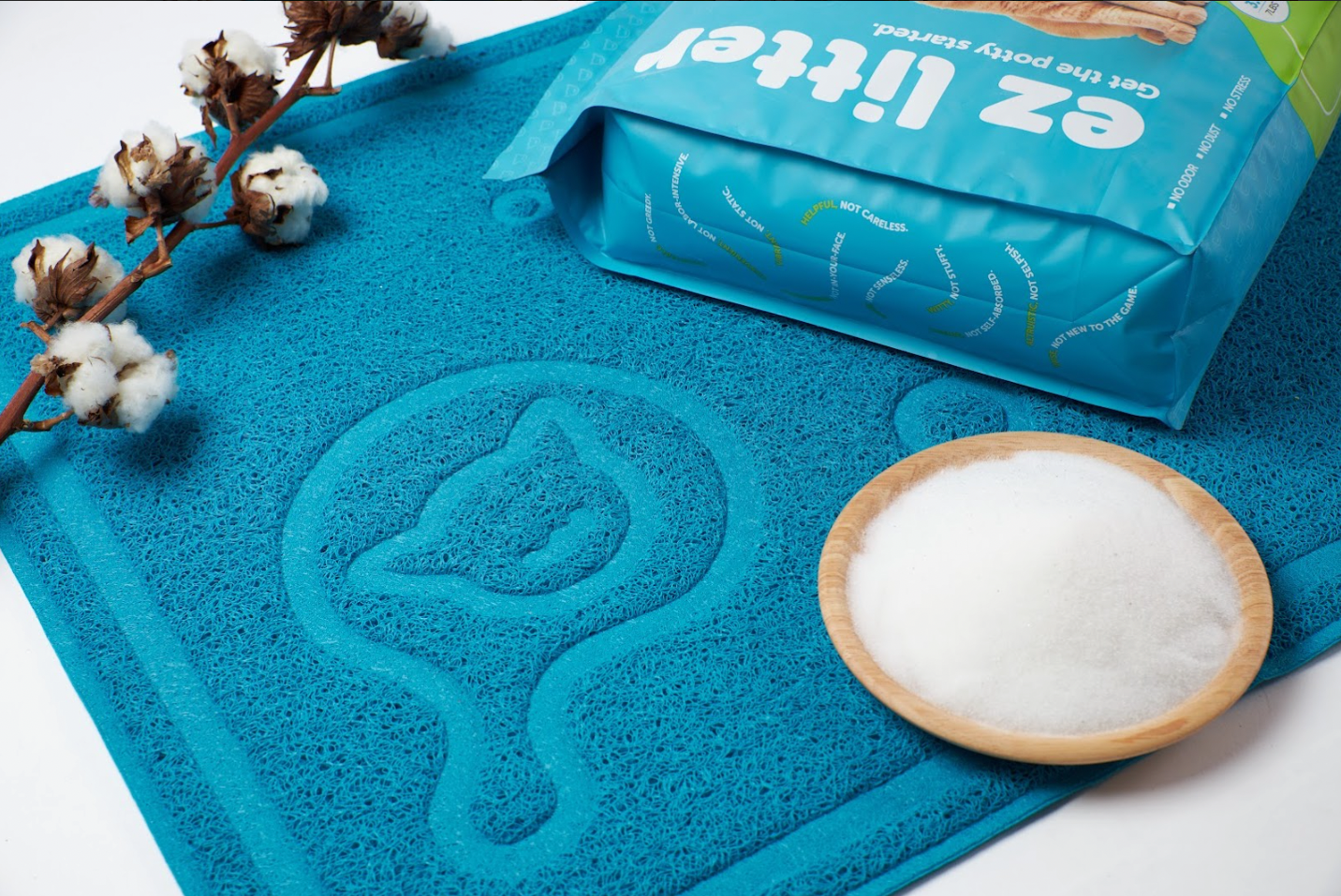 Our Uniqueness
We like to say we're unique, and that's why our solution to our clients' problem is unique, too.
No lugging big bags of rocks once a week, only to stoop and scoop while spilling gravel on your floor. Our monthly delivery empowers our people to change less litter, boldly invite their friends and loved ones to a house that's free of pet odor, and take charge of their mildly reclusive pet's health with color changing early warning systems for illness.
Join Thousands Of Heroic Cat Parents.
After experiencing the pain of losing our beloved cats to undetected feline illness, we took to science to find a solution. After spending thousands of hours in conjunction with a veterinarian research lab, we landed on a premium formula we are proud to share with your family. Be proud knowing for certain you are making a meaningful contribution to the wellbeing of your family.
"EZLitter was developed so that you can avoid the pain of losing a loved one to treatable but undetected feline illness. EZLitter's health indicating litter is science-based so you can feel safe with early alerts to any potential illness and proud knowing for certain you are making a meaningful contribution to the wellbeing of your whole family. Enjoy peace of mind with love from EZLitter today!"
-Josh Adams, DVM, (310) 773 - 4372